Marketplace
Welcome to our marketplace, a page featuring popular items for sale related to veterinary radiology.
We've had the H-A Noblus for roughly four months now so I think we have a pretty good handle on its strengths and weaknesses. Yes, it has both.
First, a little background on our testing environment. This machine is used mostly for mobile abdominal and cardiac ultrasound. It is used by veterinary radiologists as well as RDMS/ RVMS sonographers.*
Strengths. The Hitachi-Aloka Noblus is true to Aloka form and has an incredible image, particularly for a portable unit. I thought our other portable imaging units were good but there is no comparison when put up against the H-A Noblus. The image is crisp and well balanced for the abdomen. (Fig. 1) The cardiac image and color Doppler are equally as impressive for small critters and large dogs. The machine has been extremely reliable without any software glitches over the past few months.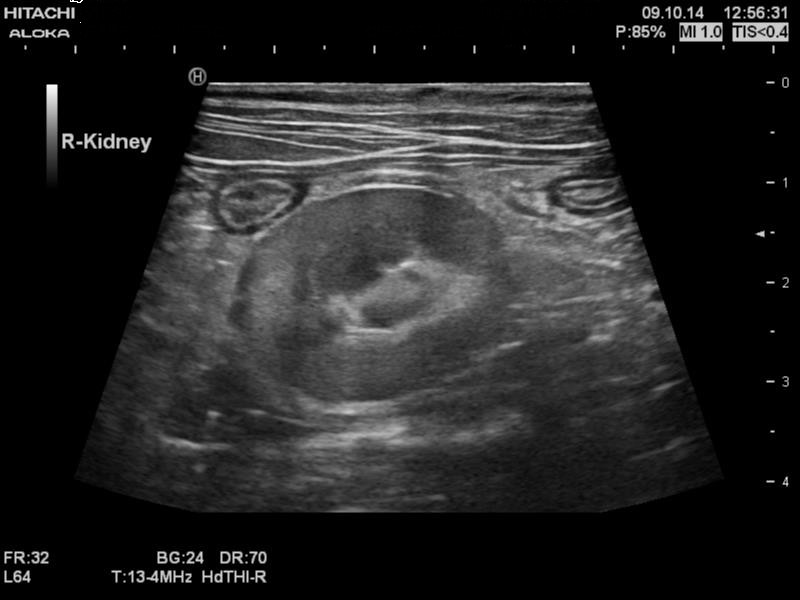 Fig. 1: Right kidney and two bowel segments using the linear probe in a trapezoid setting. (The linear probe we use most ranges in frequencies from 5-18 mHz. The probe's look and feel is standard linear)
Pushes (observations that aren't positive or negative): The Hitachi-Aloka Noblus is and feels well built (heavier than other mobile machines). The casing is metal rather than formed plastic. ** The Noblus doesn't have a handle on the front which makes one hand carrying difficult. Also the lack of a handle make probe handling more cumbersome since the side attachment needs to be attached at each location.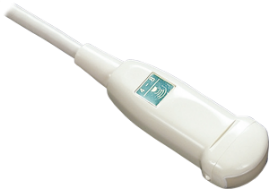 Fig. 2: C42 Neonatal, Pediatric Transducer (4-8 mHz)
Weaknesses: The machine has only one slot making probe switching more time consuming. *** Thankfully the microconvex probe image is excellent so much of the work can be done with that probe. The microconvex (4-10 mHz) probe is also true to Aloka form and has little to grip when your hand is covered in gel. Hitachi does have the C42 microconvex probe that we haven't tried. (Fig. 2) The user interface takes a bit of getting used to and could use a little efficiency work especially when it comes to image labeling.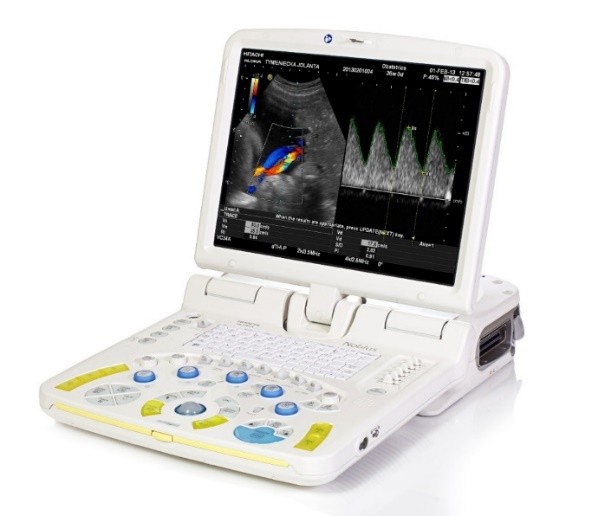 Fig. 3: Front view of the H-A Noblus. The viewing screen swivels left and right to improve viewing from different angles.
Overall: This is a solid, excellent imaging machine that seems to be a daily workhorse. Switching probes because of a single probe port does slow us down but nothing that has stopped the radiologists from playing ROCK, PAPER, SCISSOR everyday to see who gets the Hitachi-Aloka Noblus. (Fig. 3)
Usage Tip: Be sure to find an adequate travel bag with wheels to move the unit around. Repurposing another companies' mobile ultrasound wheelie bag may just work J
Machine specifications can be found online at:  http://www.hitachi-aloka.com/products/noblus 
(note: the images in their image gallery can be trusted as representative examples of the Noblus' image quality)
* RDMS (Registered Diagnostic Medical Sonographer) is a certification mark of the ARDMS;
   RVMS (Registered Veterinary Medical Sonographer) is a certification mark of the AAVR
** The magnesium casing, unlike plastic, conducts heat away from the processors 
*** There is an optional cart where two probes can be attached simultaneously  
 The Original Yami Markers
Everyone knows that radiographs must be labeled to comply with state regulations. With whole-body radiography everyone also knows that an "L" in an abdominal image means left side down, and an "L" on an elbow radiograph means left elbow. Things are not so easy with skull radiography. The problem is how do you unambiguously label an oblique lateral image of the canine or feline skull? An "L" could mean that the left canine is the top tooth or the patient is in left lateral recumbency. YAMI dental markers will allow you to unambiguously label your skull radiographs.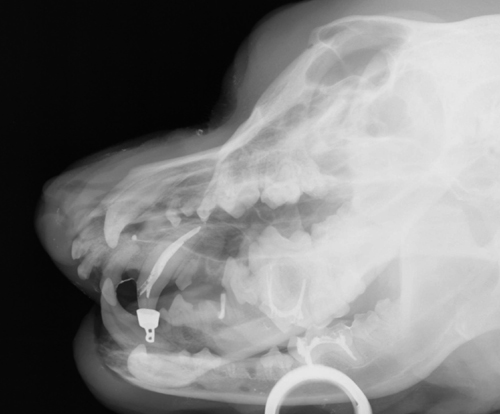 Click on the image to enlarge.
As you can see in the picture, there is no question about how the skull was obliqued. The YAMI marker is placed on one tooth, "L" or "R" marker, and now there is no ambiguity as to which oblique was obtained.
YAMI markers are made in the USA, are 100% metal and extremely durable. One set of YAMI markers is all your practice will ever need. Each set of YAMI markers contains 8 pieces -  4 left and 4 right markers of the following sizes: extra small (for cats), small, medium and large. The caps are designed to slip over the canine teeth of both dogs and cats. A compete set of YAMI markers is $25.00 plus $3.95 for shipping and handling. CA residents add 8.75% sales tax.
YAMI markers should only be used on anesthetized animals.
To order a set of YAMI markers, please call the Veterinary Imaging Center of San Diego (VICSD) at (858) 634-5430.
The Handbook of Veterinary Contrast Radiography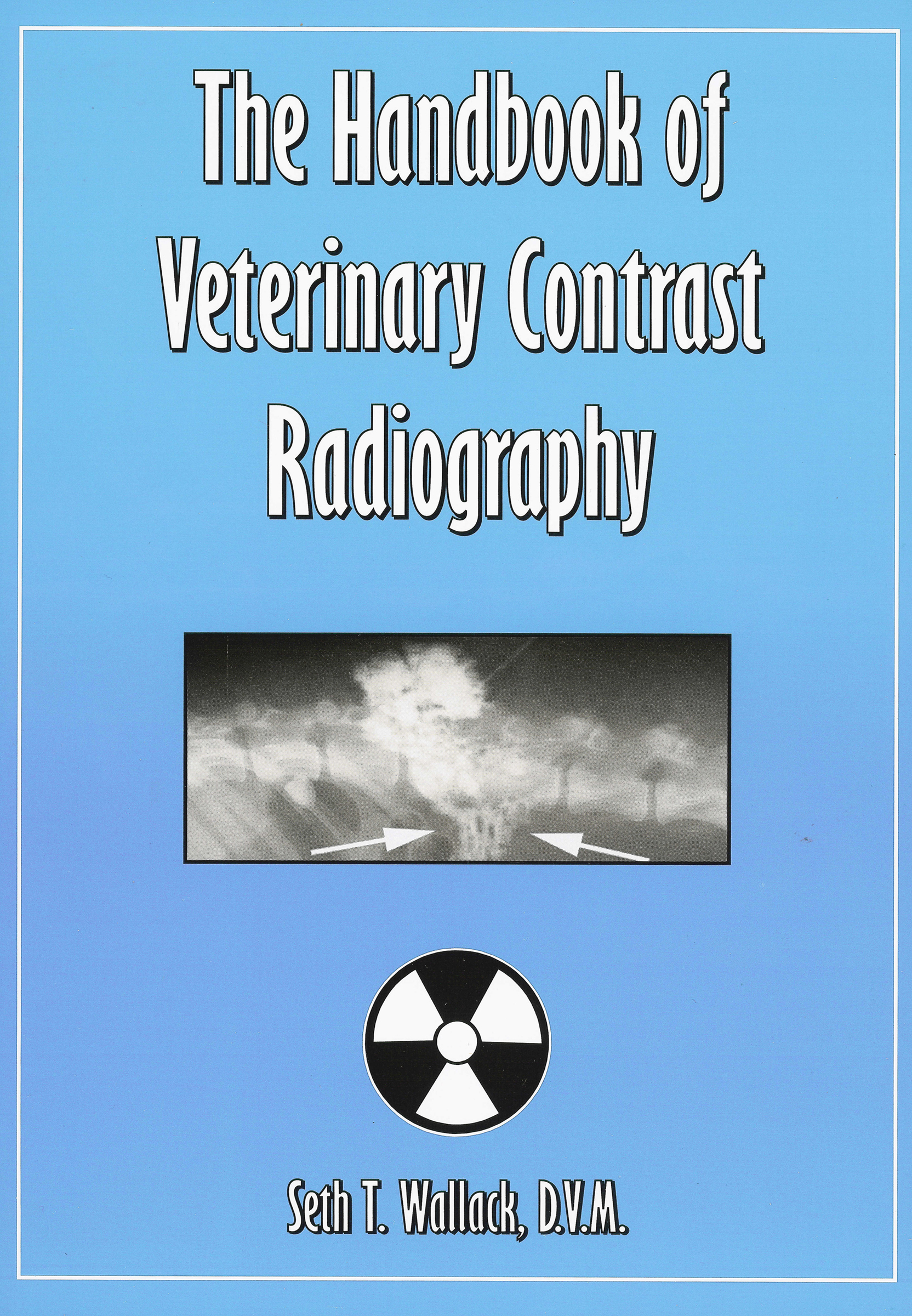 The Handbook of Veterinary Contrast Radiography is a simple yet comprehensive guide on performing over 55 barium and iodinated contrast radiography procedures for technicians and veterinarians. It can be used by technicians to perform the perfect contrast procedure, and it is also in-depth enough to cover items necessary for the veterinary radiology board examination. 
To order The Handbook of Veterinary Contrast Radiography, click here or on the book image to be redirected to Amazon's website.

Disclosure:
The AAVR offers free and fee based educational information about veterinary imaging. Within the educational information, both unrelated and related company products may be mentioned and/or paid advertising may be displayed. Companies related directly to the AAVR through ownership or member participation are Vetology.ai, Vetology.net, San Diego Veterinary Imaging and the Veterinary Imaging Center of San Diego, Inc. The AAVR and ACVR are separate, independent companies.